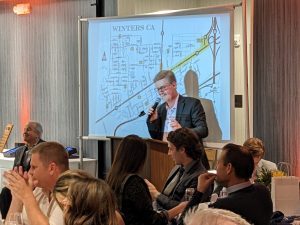 On March 31st the community celebrated the newest honorees for Citizen of the Year, Senior Citizen of the Year, Business of the Year and the Theodore Winters awards.
Dave McCallum, the Master of Ceremonies, was entertaining and made the evening extra special.
Rory Rockalot, the DJ extraordinaire, used his musical talents to keep things lively and fun.
Our congratulations go out to
Pat & Chris Calvert and Jesse Loren who both won the award for Citizen of the Year 2022.
Rob Coman for receiving the award for Senior Citizen of the Year.
The Winters Collective for being named Business of the Year.
And
Carla Wroten for winning the Theodore Winters award.
All of these individuals and businesses have contributed so much to Winters and we are very grateful that they are part of this community.
There were some extra delicious desserts which contributed to a very lively Dessert Dash!
Anderson Family Catering got rave reviews for the impressive spread and fantastic service.
A BIG thank you to the NEW Fairfield by Marriott.  We could not have asked for a more accommodating host and this great new venue that is a much needed asset for Winters.
Thank you to everyone who volunteered, sponsored and attended this really wonderful event.
See you next year!