Winters Tractor Parade & Festival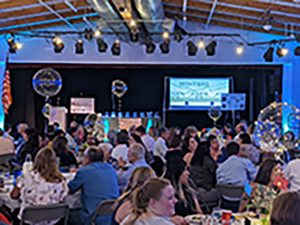 It was a warm evening for the Annual Toast of Winters but the mood was festive.  It was also very nice to get back to the tradition of celebrating the Winters community and the people who play a part in making Winters such a great place to live.
It was definitely a local event with centerpieces made by students at Winters Joint Unified School District, local wines, beer and spirits, desserts donated by the Winters community and a raffle table filled with local  business donations.
Rory from Addictive Music & Sound set the mood with lively music and lighting.  The food, catered by Anderson Catering was delicious as were the many desserts that adorned the Dessert Dash table!
The award winners were treated to heartfelt and funny tributes before receiving their awards and certificates from Senator Dodd, Assemblywoman Cecilia Aguiar Curry and Supervisor Saylors offices.
The Chamber introduced the new board of directors for the coming year and there were special honors given to Mariani Nut Company celebrating their 50th year in business and Rachel Woods who received the inaugural  You Rock award.
There were lucky winners of the raffle and the evening ended with relaxed and grateful that we're back to the point we can get together and celebrate after what has seemed like a long while.
Congratulations to all the winners for 2020 & 2021.
We'd also like to thank our sponsors:
Grand Prince Odeum
Preserve
Carbahal & Company
Patio 29
Turkovich Family Wines
Green River Brewing & Taproom
Berryessa Gap Vineyards
Hooby's Brewing
Berryessa Gap Brewing Co.