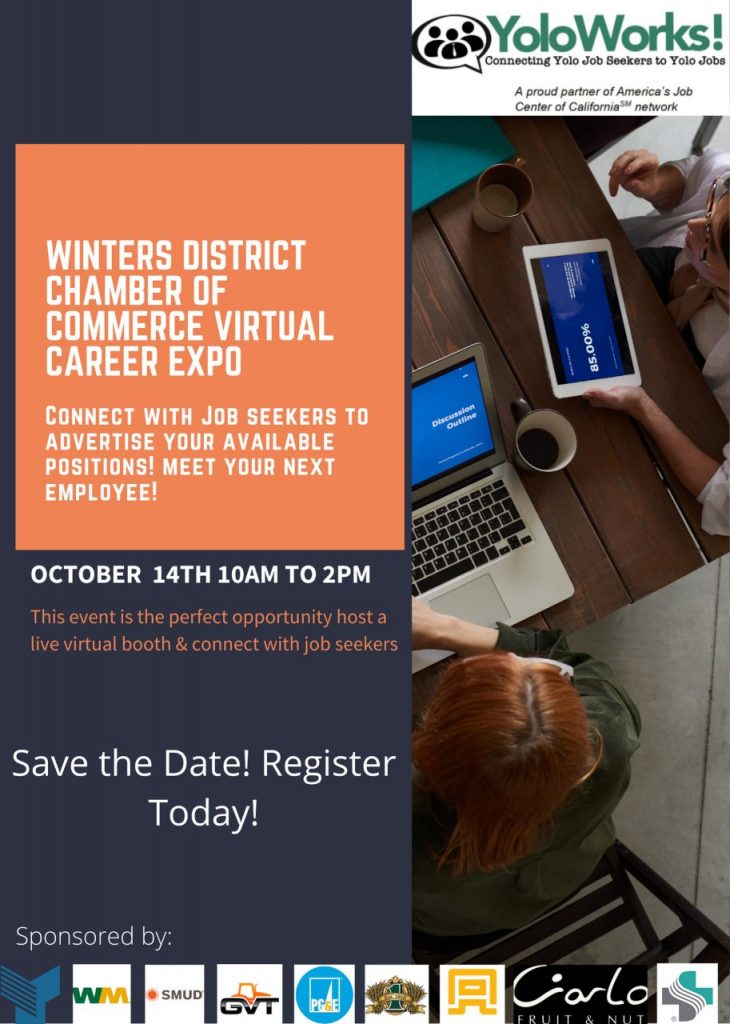 YoloWorks! is partnering with Winters Chamber of Commerce is hosting a Virtual Career Fair on October 14th from 10 am to 2 pm on Talentspace and you are invited! Talentspace is a virtual job fair platform where employers can connect with job seekers via virtual booths and schedule 1:1 video chats with job seekers.
To get started click here to complete preregistration by September 17th COB to participate:  https://forms.gle/vpnhfSc2st9ALGyj9 
Here's a list of ways to connect to job seekers during the event:
Live booths
Your live booth gives participants the chance to drop in and ask the questions they have with no registration or sign-up needed. All participants enter a live booth without camera or microphone access but can request to join with full audio and video capabilities. While there is no limit to the number of participants who can listen in on the conversation in a live booth, only 4 employees and 4 participants can be on screen at the same time.
More information on how live booths work here.
 1-1 chats
These are private video chats between one participant and one employee, requests can be sent by you as an employer to connect with a jobseeker. You can review all incoming requests and decide if you would like to accept or decline the request. 
Check out detailed information on how to send out 1-1 chats and review incoming requests from participants.
For more information or assistance with signing up please contact:
Erica Johnson, HHSA Program Coordinator
YoloWorks! Employment & Business Engagement Services
Yolo County Health and Human Services Agency
Office: 916.375.6273
Cell: 530.631.2289
Email: Erica.Johnson@yolocounty.org
Website: www.yoloworks.org