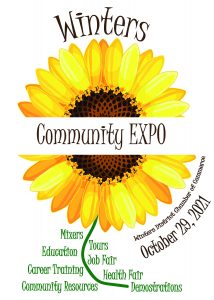 What is the Community EXPO?
The Community EXPO is an event to celebrate businesses, non-profits and the services that make our community the best place to live and work!
When does it happen?
The Winters Community EXPO is being held Friday, October 29th from 1pm - 5pm at City Park in Winters.
What will happen at the EXPO?
Participants will have "booths" that you can visit to learn more about what they do and what makes them so important to our community.  But what will make this entertaining is that each booth will be interactive!  They will be giving away prizes, giving demonstrations, hosting games and much more!
Does it cost anything to attend the EXPO?
Nope. The EXPO is free to attendees!
What if my business or non-profit wants to participate?
You can get most of the information right here on this website.  Just go to the EXPO page which can be accessed by the banner on the Home page or go to the events tab and check out the information on the Community EXPO tab.
What if I have more questions?
No problem!  Just call the Chamber office.  530-795-2329 or email: sue@winterschamber.com
We hope to see you at City Park on October 29th!