California Office of the Small Business Advocate (CalOSBA)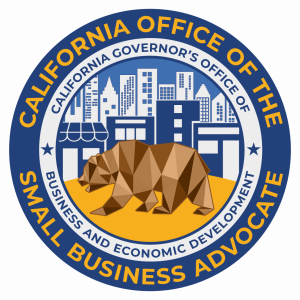 Applications Are Open for Up & Running California: A New eBay Program Offering Free eCommerce Training for Small Businesses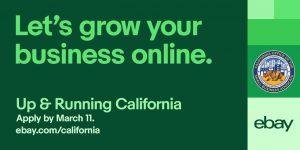 We've partnered with eBay to announce the launch of the Up & Running California program. Through the program, up to 300 California small businesses will be selected to participate in this six-week interactive eCommerce training program designed to help them get and grow online.

This new, 100% free program will offer participating businesses the educational resources, interactive instruction, and seller-to-seller coaching they need to compete on eBay's marketplace.

Participants will enjoy full access to eBay Seller School, eBay's interactive online learning platform. Seller School offers both beginner-level and more advanced courses to help all sellers accelerate and scale their eBay business, regardless of their time and experience on the platform.

Other program benefits include:
Exclusive access to six weekly webinars, led by a dedicated growth advisor;
Seller-to-seller coaching; 200 free insertion fees per month;
A 90-day, eBay basic store subscription upon "graduation"; and
A seller "starter kit" that includes various supplies to immediately begin selling online.
Applications are open until 11:59 p.m. PT on Thursday, March 11, 2021.
For more small business resources and information, visit: business.ca.gov/calosba