Sponsor A Tractor This Year!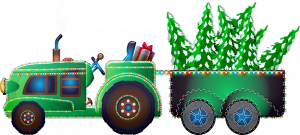 Winters Trees & Tractors!
We can't have our wonderful tractor parade this year but that doesn't mean we can't fill ALL of Winters with Holiday Spirit!
Join the fun!
Put up the lights!
Decorate a tree in your front yard!
Put a lighted tree in front of your business or in a front window!
Encourage all your neighbors, friends and family to do the same!
Let's continue our tradition of the Tractor Parade by sponsoring a cutout tractor silhouette that you can completely personalize.  Paint it and decorate it any way you would like and then display it in front of your house or business!
You can order and pre-pay to sponsor a tractor NOW!  Visit this LINK!
As soon as your tractor is ready, we will call you for pick up.
A special thanks goes out to Donnie Whitworth for at the Winters JUSD.  His wood working skills have made this event possible!
Cost is $50./Tractor Cutout
Proceeds are used as a fundraiser for the Winters Chamber of Commerce.
If you have questions or would like to get more information, please contact the Chamber office.       530-795-2329  or email: sue@winterschamber.com