Winters District Chamber of Commerce Virtual Career Fair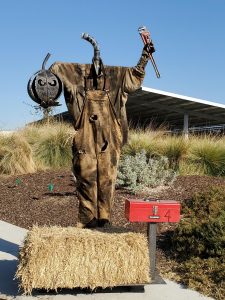 Every year around mid October folks start looking forward to the celebrating the upcoming Holidays.  While celebrations may feel differently in 2020 due to Covid-19, the Winters Scarecrow Fest not only felt "normal" but gave anyone wanting to get into the spirit of the season a way that was safe and entertaining!
More than 45 Scarecrows entered the Scarecrow Fest that added a new twist this year.  New to 2020, Scarecrows were to be judged by the public by placing their votes on ballots which they dropped off at participating location all over Winters.
Ballots will be tabulated in the next week or so and the winners will be announced before Thanksgiving.
If you missed seeing them all, you can follow this link to see images of the wonderful Scarecrows that our very creative businesses and community entered into the contest.
If we have missed any Scarecrows, please send an image to sue@winterschamber.com so we can add them to our scarecrow page.  See the Scarecrow Gallery Here!
Thank YOU to everyone who participated!  2021 will be even better!